Using smart, flexible online survey software, you can collect data and opinions from the people who matter the most – customers, employees, and students.
Steps To Join – Spade Community
Survey software authorizes users to create online surveys, panel games, polls, and other web forms. These are then dispensed to an organization's targeted audience to collect and manage market research or ask and request feedback and opinions.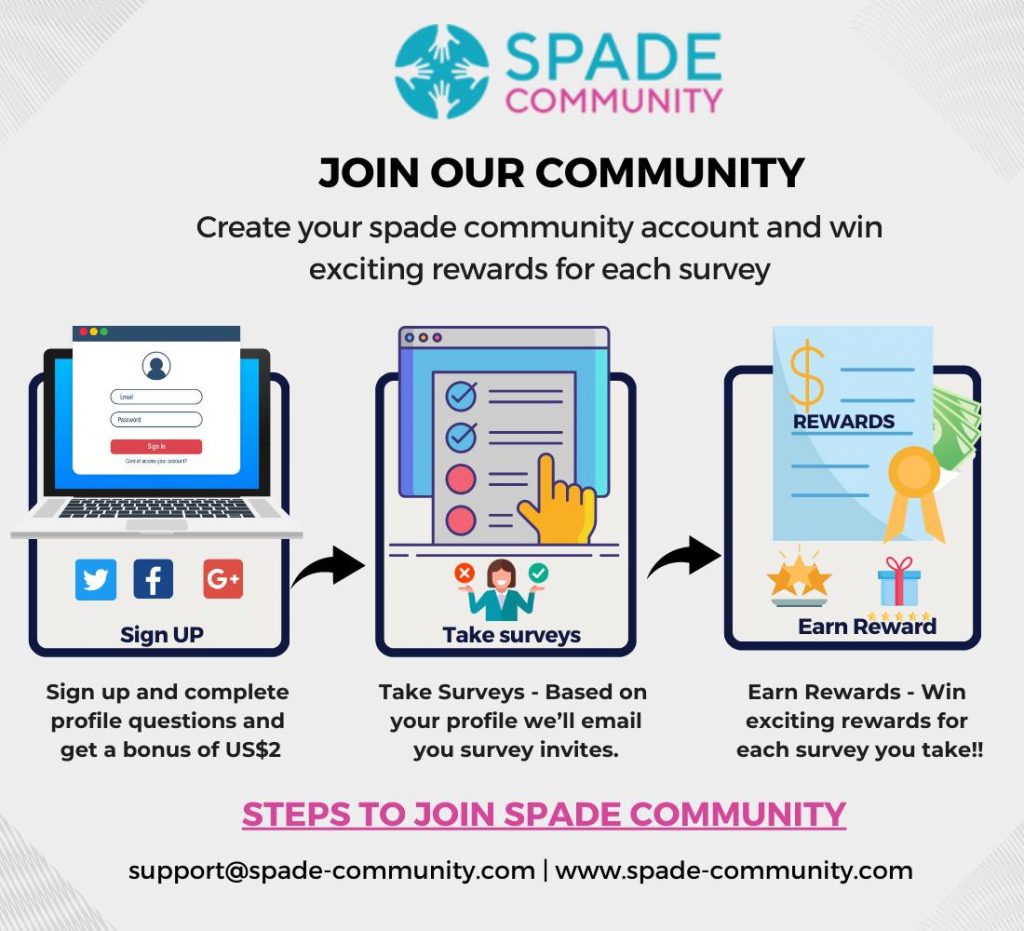 Create – Quickly Create Intelligent, Engaging Surveys
Survey software helps collect feedback from a conducted sample through a computer-aided method, which comes in diverse.
Survey software solutions help you design, send and analyze surveys, usually through the internet and using automated functionality with drags-and-drops tools.
Some features of survey software
Question conditions.
Answer conditions.
Scoring.
Variety of Survey templates.
Email invitation.
Multimedia.
Response management
Be prepared to report back results and take action.
Collect – Reach out to your Target Audience no matter where they are.
Survey Software collects information from targeted audiences about their opinions, behavior, or knowledge. Ordinary types of example surveys are written questionnaires, one-to-one or telephone interviews, focus group interviews, and electronic (e-mail or website) surveys.
1.Spade Community allows you to collect data by selecting the most appropriate survey distribution channels for your project.
2.Each method contains revolutionary data collection tools that allow you to customize and monitor all the aspects of the survey invitation distribution.
For example, you can set the data distribution guidelines, controls phone agents in different locations, and create email and SMS promotions.
3.Spade Community allows you to set limits for data collection that are perfectly representative of your sample. Smartphones, the internet, and face-to-face are seamlessly combined, making the Spade community the optimum tool for professional research.
Analysis – Discover useful insights
Survey analysis is the process of analyzing your results from customer surveys.
1. Spade Community software tool first summaries the data into tables and graphs
2. The collected data are easy to understand and that gives you an accurate conveys the results.
Survey Analysis Factors:
1. Real-time results
Spade Community software provides a quick view of real-time responses, creates graphs, and uses custom filters to generate the insight you need.
2. Filtering
The software helps to better understand your data by using filters to segment responses when viewing survey results.
3.Text analysis/word clouds
Coheres, free text feedback using our word cloud and text analysis tools.
4.Reporting Tools
Spade Community serves you with a quick way to integrate how different groups respond to particular questions with our reporting tools.
5.Custom reports and charts
Our analysis tool is easy to customize your data formatting and create modern charts.
6. Export data
The software allows you to easily export data in all popular formats, including CSV, PDF, Word, and XLSX.